International Accreditation in Healthcare 
We are a Higher International Accreditation Institution located in Luxembourg. With more than 35 years collaborating in Health Accreditation.
The ECFAH in its internationalization strategy aims at the international accreditation of its centers and degrees by the most prestigious higher education quality agencies in each field of knowledge. This international recognition facilitates the mobility of our students and teachers, as well as an increase in the employability of our graduates as they are graduated from programs that are recognized by companies around the World. 
To date the ECFAH has signed agreements of recognition of credits with the following countries in Europe:
Austria
Belgium
Croatia
Cyprus
Finland
Georgia
Greece
Hungary
Ireland
Regione Lombardia
Luxembourg
Malta
Norway
Poland
Romania
Slovakia
Slovenia
Spain
Sweden
Turkey
United Kingdom
In addition, the ECFAH has mutual recognition agreements with the American Medical Association (for live events and e-learning materials) and the Royal College of Physicians and Surgeons of Canada (for live events only).
The ECFAH® has provided an international accreditation system applicable throughout Europe for CME meetings for the last 12 years. Over that time, significant developments have occurred in CME-CPD that have included international mutual recognition agreements with the USA and Canada, and major changes in the regulatory framework for the support of medical education.
Following an extensive set of consultations, the ECFAH® has developed new criteria that reflect this new regulatory environment and provide a developmental stimulus for the achievement of higher standards for medical education in Europe.
The principal responsibility of ECFAH is assuring the quality of
international Continuing Health Education (CME) and Continuing Professional Development (CPD) in Europe, as well as facilitating and stimulating participation of individual physicians in CME activities. ECFAH policies, procedures and standard documents and texts are adjusted to international and European standards in CME accreditation.
What is ECFAH ?

The European Council for Accreditation in Healthcare, is responsible for accreditation of international
CME programmes for Medical and Manual Therapists and Other  Specialists within the European community.

ECFAH works in conjunction with the Specialty Sections of UEMS and the European Specialty Accreditation Boards, for technical appraisal, and with the National Accreditation
Authorities, for official recognition.
ECFAH has a mutual recognition agreement with American Medical Association ECFAH only provides accreditation for international educational programmes, ie
those that are designed for an international audience who may expect recognition of CME
credits in their home countries.
National initiatives are managed solely by National accreditation bodies, but the credits will not be recognised elsewhere.
ECFAH ACCREDITATION

What is accreditation?

Accreditation means the decision by ECFAH that a CME activity, event or
programme has fulfilled the ECFAH quality requirements. A CME activity will be accredited by ECFAH if it has high quality scientific content, if it is free of commercial bias and has an
appropriate educational approach.
Who can apply for ECFAH accreditation?

ECFAH will accredit meetings and distance learning programmes, provided by International and National Medical/ Scientific Societies, Universities and their associated
working groups or affiliated societies.
Accreditation of CME Programmes presented by professional health education organisations can be considered.

To be eligible for ECFAH accreditation, other organisers, individual doctors, manual therapists, working in conjunction with commercial organisations, should work in
cooperation with, or within the structure of those scientifically recognised organisms.
Purposes of accreditation

Accreditation has two fundamental purposes:
Ensure the quality of the institution or program and Help in the improvement of the institution or program.
By fulfilling its two purposes, quality assurance and institutional and program improvement, accreditation provides a valuable service to several sectors:
For the PUBLIC, accreditation values ​​include to:
a. guarantee of external evaluation of the institution or program, and a finding of conformity with the general expectations in higher education or in the professional field;
b. an identification of institutions and programs that have voluntarily carried out explicit activities aimed at improving the quality of the institution and its professional programs, and are carrying them out successfully;
c. an improvement in professional services available to the public, as accredited programs modify their requirements to reflect changes in generally accepted knowledge and practice in the field;
d. less need for intervention by public agencies in the operations of educational institutions, since their institutions, through accreditation, are privately providing maintenance and improvement of educational quality.
For STUDENTS, accreditation provides:

to. an assurance that the educational activities of an accredited institution or program have been successful and therefore meet the needs of students;
b. assistance in the transfer of credits between institutions, or in the admission of students to advanced degrees through the general acceptance of credits between accredited institutions when the student's performance has been satisfactory and the credits to be transferred are appropriate to the receiving institution;
c. a prerequisite in many cases for entering a profession.
HIGHER EDUCATION INSTITUTIONS benefit from accreditation through:

to. the stimulus given to self-evaluation and self-directed institutional and programmatic improvement;

b. the strengthening of institutional and programmatic self-evaluation through the review and advice provided through the accrediting agency;
c. the application of accrediting agency criteria, generally accepted throughout higher education, that help guard against external encroachments detrimental to institutional or program quality by providing benchmarks independent of the forces that may affect individual institutions;
d. enhancing the reputation of an accredited institution or program due to public respect for accreditation; and. the use of accreditation as a means by which an institution may obtain eligibility for the participation of itself and its students in certain government assistance programs for postsecondary education; Private foundations also often rely on accreditation as a highly desirable indicator of institutional and program quality.
The specific purposes of the ECFAH accreditation process are:
1. Encourage continuous self-analysis and improvement of the educational program by representatives of the administrative staff of the institution, the faculty, students, the governing body, and other appropriate electoral districts, with the ultimate goal of ensuring students an education of quality and ensure adequate care patients.
2. to determine whether the occupational therapy educational program meets the appropriate approved educational standards.
3. Encourage teachers to anticipate and adapt to new trends and developments in practice that should be incorporated into the educational process.
4. Assure the educational community, the general public, and other agencies or organizations that the program has clearly defined and appropriate objectives, maintains the conditions under which these objectives can reasonably be expected to be achieved, appears to be substantially achieving them, and may be expected to continue to do so.
Show students you're one of the best in the industry.
ECFAH offers accreditation to schools and programs offering training in Medicine, Physical Therapy and the Massage Therapy.
In general, accreditation is a process that acknowledges schools and programs for achieving high quality, performance, and integrity. It's voluntary and involves a thorough review by peer professionals.
They evaluate schools and programs based on a set of defined educational and professional standards. Because the evaluation is completed by an outside party, accreditation is an unbiased demonstration of the quality of your programs and institution.
Show students you're one of Specialized accreditation
Specialized accreditation is crucial for a profession to ensure quality education.
As the only european specialized accreditor for Medicine, Physical Therapy, Massage/, ECFAH focuses on student learning or competence fundamental to our fields, including in-depth curriculum review by your own peers rather than general educators. ECFAH is the only accrediting agency of, by and for medicine, physical therapy and massage therapists.
Show students you're one of Specialized
Requirements to apply for accreditation Accreditation is a process that can take one to two years to complete.
You can earn institutional accreditation for your entire school, or programmatic accreditation for a specific program.  
The Commission
We're governed by a Commission of volunteer medical professionals consisting of eleven to thirteen elected Commissioners, including at least two public representatives.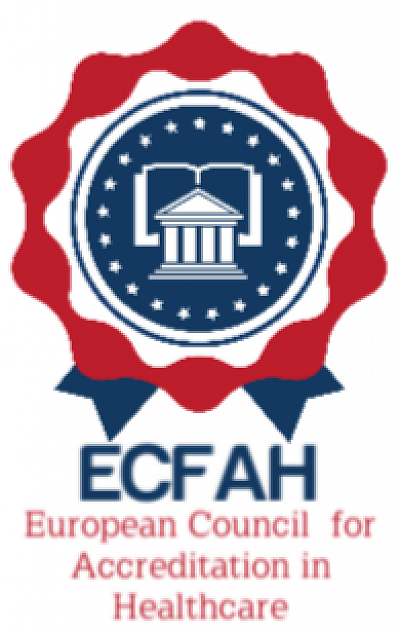 EUROPEAN COUNCIL FOR ACCREDITATION IN HEALTH